The best people in your life deserve perfect gifts. Well, it's usually that simple in our heads. But when the time comes to actually choose the gifts, indecisiveness shows up, and you are stuck.
It's even tougher when you have to choose a gift for her. You will come across so many options that you think she would love.
But you want to make sure it's something she remembers and cherishes for a long time. So, you hesitate and procrastinate until it's almost too late. Then you make a hasty decision, which many times does not turn out well.
We are always rooting for you, and seeing you mess up getting a gift for her is not something we fancy. So, we've done the tough part for you; we compiled a list of some of the best bee gift ideas for her.
LONAGO Honey Bee Necklace
First on our list is the LONAGO Honey Bee Necklace. This necklace can be a great gift if you are trying to cheer her up or lift her spirit. It comes with a pendant that has "Bee Happy" engraved on it.
Of course, it's a gift that goes beyond just being a cheer-up gift. You can get it as Valentine's Day gift, an anniversary gift, birthday, and pretty much for any cheerful occasion.
Also, it is hypoallergenic, so the chances of having a reaction from wearing are quite low.
Cute Busy Bee Socks
You may also decide to get a bee-branded pair of socks for her. This brand of socks is available in 12 colors (with differing animals), so you shouldn't have issues finding a color she would like.
The socks fit women with sock sizes between 8 and 13, and shoe sizes between 6 and 12. It is made of 80% cotton, so you can expect a lot of comfort for the wearer. Also, it is stretchy and can be worn with different outfits: formal and informal.
Bee House Socks
This pair of indoor slippers are a great way to show her she's the bee's knees.
So, whenever she looks down while wearing it, the cute bee design will remind her that she's a queen. Well, since bees are a sign of prosperity and goodness, that's what she'll see in the bee design.
Away from the sentiments, the slippers have a grippy bottom and the cutest bee antennas. It is also quite light and is for women's size 9 – 10.
MC30 Crystal Yellow Bee Lobster Clasp Pendants
Here's one gift that will serve multiple purposes. This pendant comes in the shape of a yellow bee. It can be used as a pendant for jewelry, key chains, necklaces, and a bunch of other items.
Bothered about how to store it without losing it? Well, the pendant comes with a little pouch bag for storage.
Cute Bees Gel Pens
This one would be perfect for your daughter: 8 pieces of pens in the form of a smiling bee. You can also get it for your wife, mother, sister, or anyone really. As long as it will be useful to them, it's a great gift idea.
It is easy to grip, it contains black ink, and it has a 0.5mm tip. Of course, since it has a tiny tip, the user's writing will be neat and smooth.
Elegant Bee Coin Purse
This product comes with 2 purses, and each purse is a handy purse with quite a few compartments. Each one of them has a coin pouch, slots for 3 cards, and the main compartment, which can contain a small phone.
The purses also have a key chain ring for attachment to your keys. You have the option to choose from about 30 colors. The purses are made from Nappa and Pebble leather, and they have a bee pendant attached to them.
Presentski 18K Rose Gold Bee Bracelet 925 Sterling Silver Adjustable Chain Honeycomb Link Tennis Bracelet
This bracelet has a simple design, beautiful, and the pack comes with a beautiful gift box.
The bracelet has a little bee pendant and is easy on the skin. It is adjustable, sterling silver is nickel and lead free, hypoallergenic.
Sock It to Me, Knee High Funky Socks
The next thing on our list is also a sock. But this time a knee-high sock. The sock comes in 4 designs, but the yellow sock with bee patterns is quite pleasing to the eye.
It's a great way to liven up formal dresses, whether at school or at work. The socks are comfortable and easy to wear. It is perfect for women with shoe sizes between 5 and 10.
Sterling Silver Bumblebee Stud Earrings
A stud earring will do as a great gift too, and these stud earrings are perfect for this purpose. They come in 3 variants: gold-plated silver, rose-gold plated silver and rhodium-plated silver.
The studs take a bumblebee shape, and when worn, they can be a representation of every good thing bees represent. The good thing is it is long-lasting, especially when stored properly. So, whoever you give it too should have it around for a long time.
Store it in a dry place, and away from rubbing or friction to ensure it lasts long. Also, keep it away from harsh cleaning agents and perfumes, else it will lose quality quickly.
MANZHEN Adjustable Tiny Bumble Bee Cuff
This cuff is available in 12 variants. Each one of them is plated with either gold, copper, or rhodium-gold. So, you can expect it to provide some resistance to wear. But do not wear it in water or put it in water, else it will fade very quickly.
The cuff has a diameter of 2.36 inches with a bumblebee at each end – a pretty design if you ask us. It makes for great prom, wedding, engagement, or birthday gift. There is no restriction really, as long as it is a cheerful occasion, this should do.
Bee Night Light Decorative Accent Lite
Another gift idea is this wall plug-in accent light. It comes with a glass that has a bumblebee engraved on it. The product comes with a 4-watt bulb, and to use it, all you have to do is plug it.
This accent light also has a switch, so you can switch it off without removing it from the socket. It is perfect as a night light, and you can use it in your bedroom, bathroom, kitchen, or even your living room.
WATERCOLOR BEE PRINT
This print is one for minimalist décor, and we think it would be very fitting on white walls or brightly-colored walls. I love the beautiful contrast of the purple.
You can get it in a variety of print sizes. It can be placed in the bedroom, the living room, and even in the study.
Ladies Women's Queen Bee Design Wrist Watch
Watches are classically elegant and can make a great gift. This beautiful watch will remind that special woman in your life that she is the queen bee!
Aromascape "Couldn't Bee Happier for You" Scented Candle
This scented candle can be a great way for her to relax and create her own serene resting atmosphere. It comes with 3 wicks, which burn for around 30 hours.
The wax is made of soy blended with honey, almond milk, and vanilla fragrance. One plus of this product is that it is totally recyclable.
Milk and Honey by Rupi Kaur
If she loves poetry, then this bee-themed poetry collection by Rupi Kaur may just delight her. The book's title represents 2 very sweet substances. In the book, the writer tries to help the readers to find sweetness in most bitter experiences in life.
The book is available in paperback, kindle, audiobook, and hardcover.
Original Sterling Charms for Bracelets
Another piece of jewelry on our list; we have here a bee charm for bracelets. This charm does not come with a bracelet.
So, you may have to get a bracelet with the charm, or she could use the charm with her other bracelets. It's a perfect item for mother's day, Valentine's Day, or a wedding gift.
Napier "Classics" Boxed Gold Tone and Yellow Bee Brooch Pin
The good thing about a brooch pin is that she can use it in many ways. She can attach it to her blouse, gowns, or jacket. She can wear it on her collar, shirt, skirt, jacket's lapel, neck scarf, and headband. Each position gives a different look.
She can also use it on her hat, bag, or as a pendant for her necklace. It makes for a very versatile gift.
HooAMI Essential Oils Aromatherapy Diffuser Locket
This necklace will leave her smelling nice all day long. The locket compartment holds the pads infused with essential oils. The essential oils can serve as perfumes, but they also have other functions.
The necklace comes with 12 refill pads, each coming in different colors. It is made from surgical grade stainless steel and is hypoallergenic.
Bee Bumblebee Big Crochet Plush Gift
This bumblebee crochet made from acrylic wool is the perfect baby shower gift. It is stuffed with polyester fiber filling and is machine-washable.
It can be used as a filler for purses, as a toy, or as décor for the baby's nursery or any other room. One precaution to take is not to leave this in the hands of a child below 3 years old.
Smart Phone Stand Novelty Deck Chair
The smartphone is designed like a deck chair. The sling is made from a fabric with bee patterns printed on it.
The stand is 15 cm tall, and it has you can set it to 2 different heights. It is useful for people who read or stream videos on their smartphones.
Moslion Throw Pillow
This 18 x 18 inches throw pillow comes with a bee pattern on it. It is made from cotton linen, so it quite comfortable. It has a hidden zipper, it can be wash easily, and it dries quickly.
This gift is ideal for different occasions, and it can be used as décor at home and at the office. You may use it for your couch, bed, sofa, or chair.
Summer Bumblebee Ring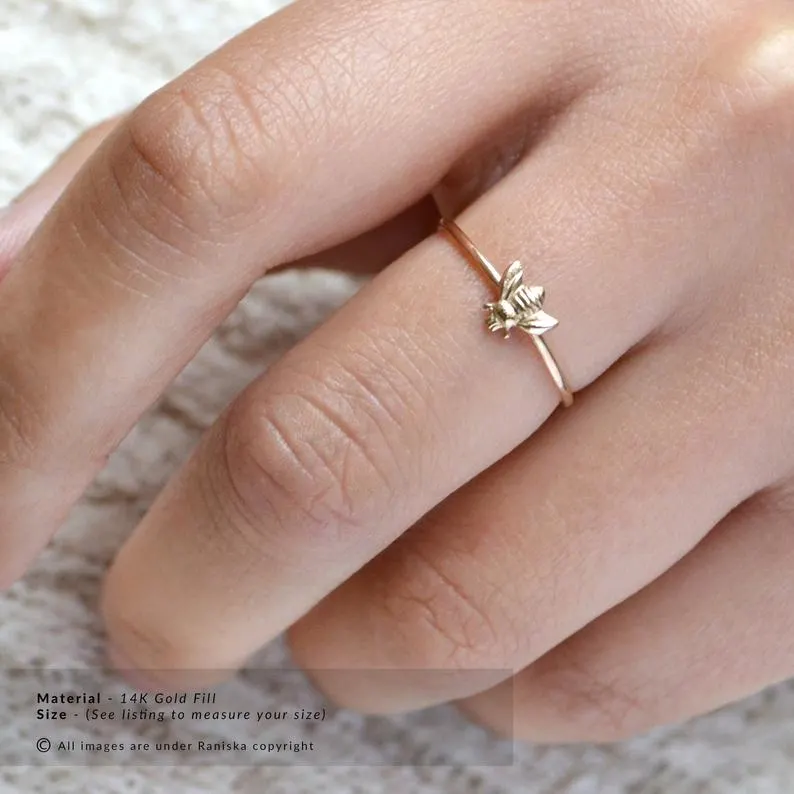 For this ring, you may opt for the variant made from sterling silver or the one made from 14k gold fill.
The ring is available in 11 predetermined sizes, but you can request for a custom size. It comes in a cute gift box, and it is one gift you can give to her at any good time.
SiMYEER Purses and Handbags
Last on our list is this item that can serve as a shoulder bag, crossbody bag, handbag, and purse. It comes in 12 color combinations, so you are spoilt for choice.
It is made from synthetic leather and is quite durable. It has 3 compartments, and in the back, it has an entry for your earpiece. So, you can connect the earpiece to your phone and listen while your phone remains in the bag.