*This post may have affiliate links, which means I may receive commissions if you choose to purchase through links I provide (at no extra cost to you). As an Amazon Associate I earn from qualifying purchases. Please read my disclaimer for additional details..
Ensuring your garden has a good mix of flowering plants is essential for attracting bees and other pollinators that may visit your garden.
The plants in our gardens provide bees with the pollen and nectar they need to survive. The plants can also be a form of nesting habitat for the bees. While some insects prefer open flowers, bees tend to prefer tubular flowers.
Beyond attracting bees to your garden, growing various types of flowers offers a diverse visual impression.
To this end, we have compiled a list of 11 of the best bedding plants for bees.
Alyssum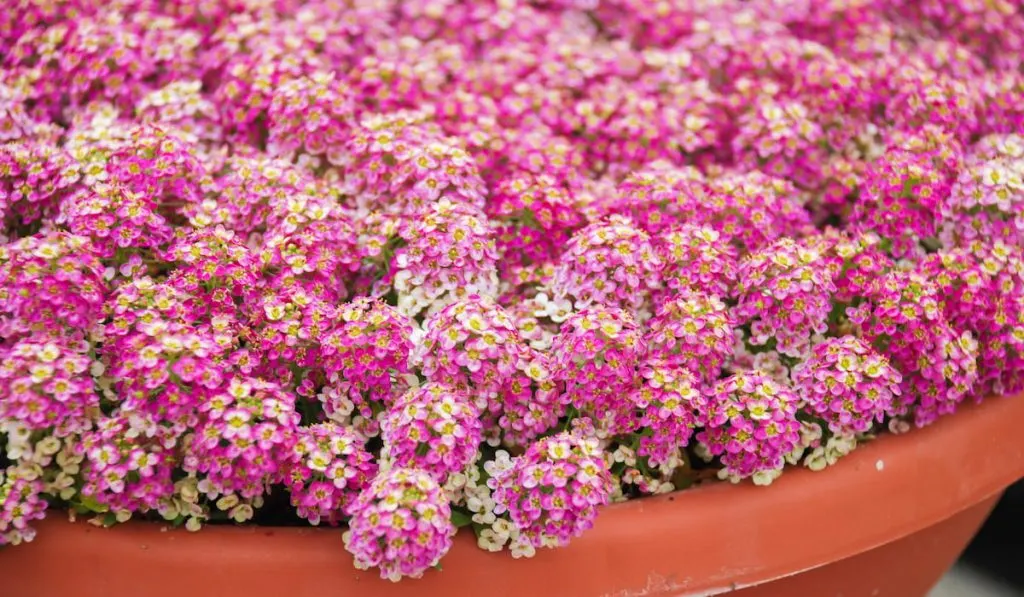 Alyssum is a carpet flower native to Europe, and it is often used to blanket landscapes or gardens. Alyssums are also known as Sweet Alyssum. Their low-growing foliage grows and quickly covers the ground with cross-shaped four-petal flowers.
Alyssum flowers begin blooming in the spring before most summer flowers. They attract bees and wasps thanks to their honey-scented nectar.
When Alyssum matures, it can measure 3-9 inches tall and 6-12 inches wide.
The fine texture of Alyssums is ideal for small beds where they grow and produce clouds of purple, white and pink flowers.
Alyssum is easy to grow and will thrive in moist, well-drained soil. Alyssum is found in USDA growing zones 5-9.
Portulaca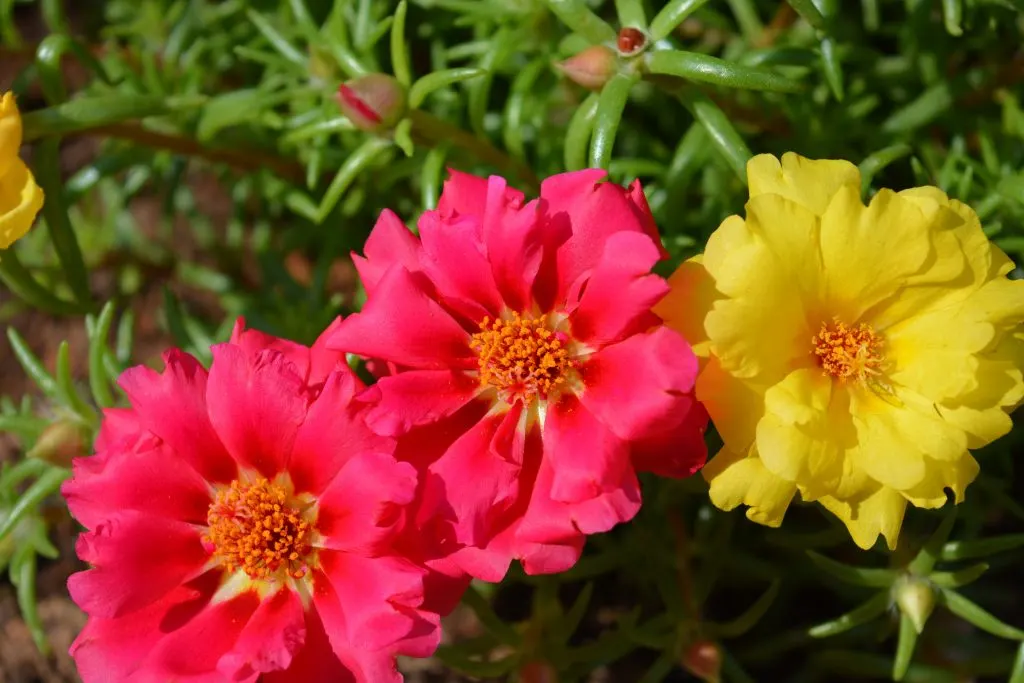 Native to Uruguay, Brazil, and Argentina, Portulaca is a beautiful low-growing flowering plant.
Its flowers are ideal for landscape and garden settings. You can also use them to beautify stone walkways and old buildings.
Portulaca flowers (also known as Moss Rose) are ideal for sunny beds and containers, making your garden look more attractive. When Portulacas bloom, they produce white, pink, cream, red, lavender, yellow, and orange flowers.
At night the blossoms of Portulaca close to protect the pollen, which honeybees are highly attracted to.
At maturity, Portulaca can grow around 6-8 inches tall. Portulaca flowers will thrive in sandy, well-drained soil, and they prefer adequate sunlight exposure. They also have a high tolerance for drought and hot weather.
Portulaca is found in USDA growing zones 2-10.
French Marigolds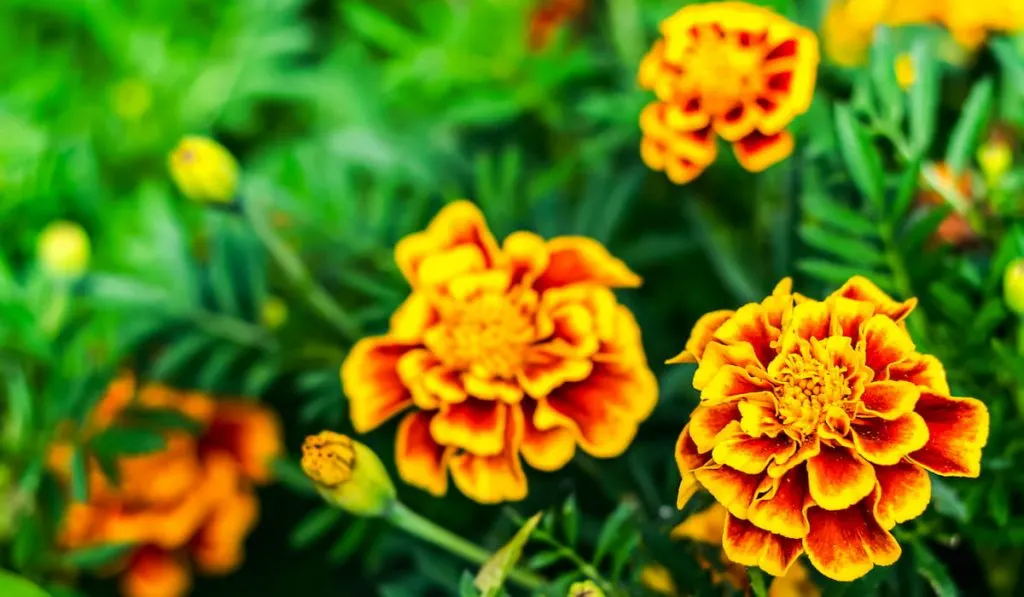 French Marigolds are cheerful, brightly colored, and compact flowers with shapes similar to daisies.
Although French Marigolds are indigenous to Mexico, you can grow them anywhere. They are also easy to grow, low maintenance, and ideal for garden beds. 
French Marigolds can last the entire growing season and are well known for their long blooms. Their blooms usually come in warm shades of red, orange, and yellow.
Generally, French Marigolds are attractive to bees. But the varieties with open centers are relatively more attractive.
You can grow French Marigolds in any soil, but they thrive in well-drained soil with maximum sunlight exposure. At maturity, they grow as tall as 5-18 inches.
French Marigolds are found in USDA zones 3-11.
Salvia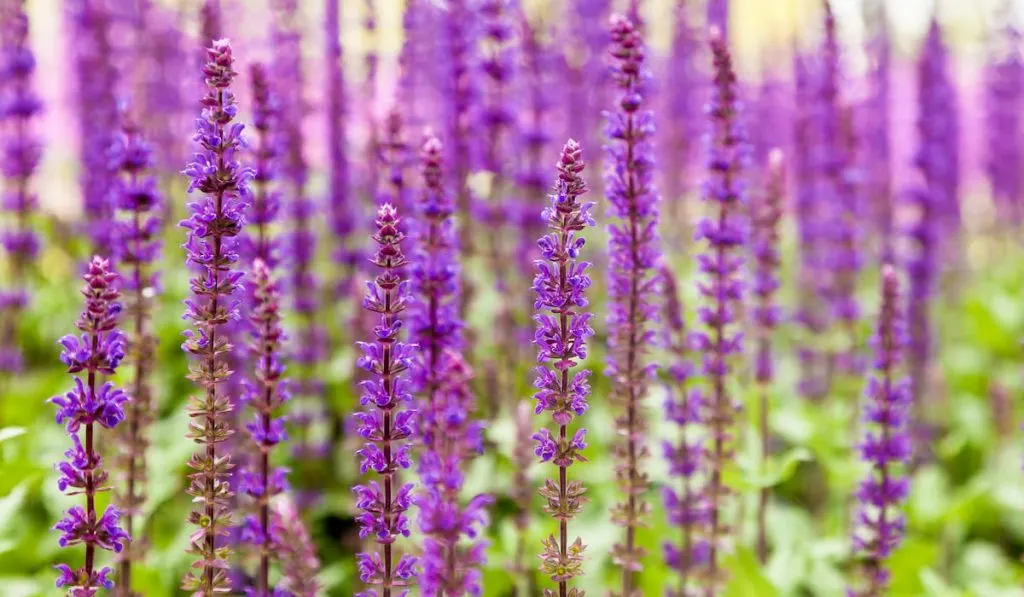 Salvias are a large family of plants that consist of shrubs, annuals, and perennials. Many of the plants in the Salvia genus have pleasant fragrances that make them attractive to bees and butterflies.
Most of these plants have extended bloom periods, which can sometimes be from late spring till fall.
The species of Salvia that bees and even butterflies find the most attractive is Salvia coccinea, also known as Texas Sage.
The tubular flowers of the Texas Sage produce beautiful red coral and pink blossoms from late spring to early fall. 
Salvias are easy to care for and will even do well in dry, rocky soil.
Snapdragons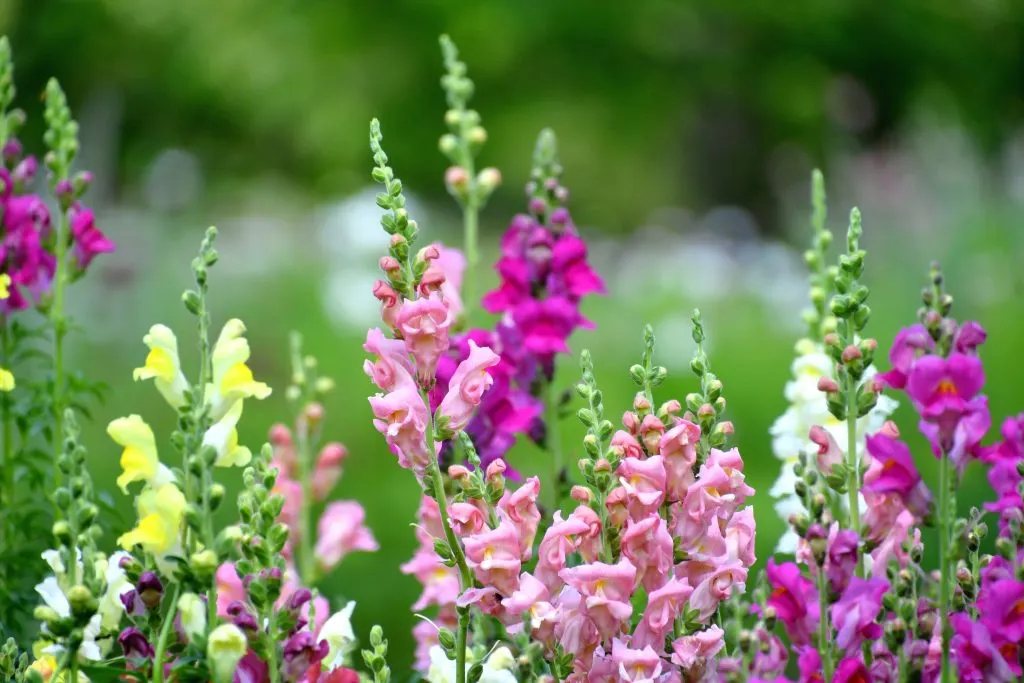 Snapdragons are short-lived perennials native to Turkey, Mediterranean Europe, and Syria. You can use them in patio containers, mixed borders, and flower boxes.
Bloom time for Snapdragons is from spring to fall, and they produce beautiful violet, white, purple, yellow, peach, pink, orange, and red blossoms. 
When Snapdragon flowers bloom, they start at the base of the stalk and move gradually to the top, making the bloom period last longer.
Due to how heavy-lipped Snapdragons are, they depend on large bumblebees for pollination since smaller bees cannot open the flower.  
There are several varieties of Snapdragons, and at maturity, they can grow about 6-48 inches wide and 6-12 inches across. They generally prefer rich, moist, well-drained soil with full sun or partial shade.
You can find Snapdragons in USDA growing zones 7-11.
Zinnias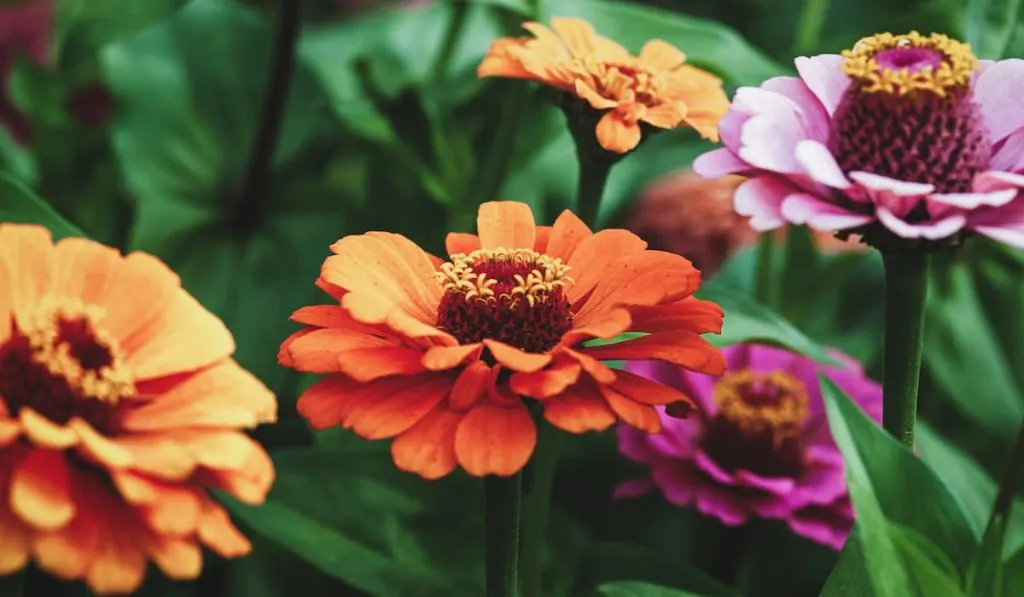 Zinnias are fast-growing annuals native to southwestern United States, South America, and Mexico. Zinnias thrive in warm climates, are easy to grow, and require minimal care.
The bloom time for Zinnias is late spring through the first frost. 
Zinnias produce elegant green, pink, red, purple, white, lavender, yellow, and orange blossoms that bees and butterflies find attractive. They are available in spreading, tall, and short varieties.
At maturity, Zinnias can grow around 1-4 inches tall and 12-18 inches wide. 
Zinnias thrive well in well-drained soil with exposure to maximum sunlight and they are found in USDA growing zones 2-8 as annuals and zones 9-11 as perennials.
Sunflowers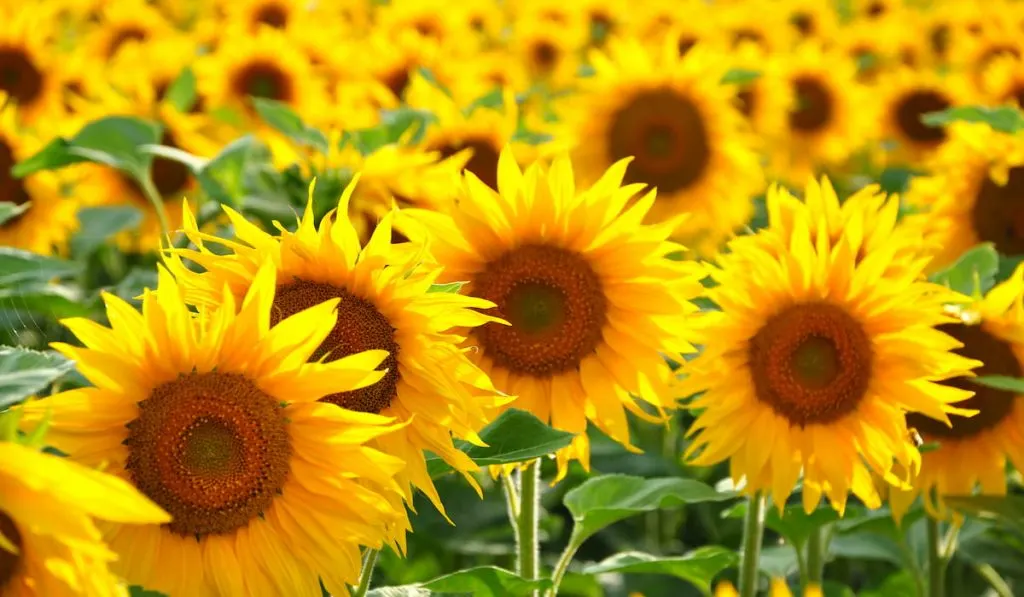 Sunflowers are bright yellow fast-growing annuals native to North America. They grow on sturdy and upright stems, with each stem holding a single flower several feet high.
The bloom time for Sunflowers starts mid-summer until early fall. 
The main Sunflower species produces orange-yellow petals with a purple or brown disk.
However, growers have started creating flowers with different colors like mahogany and red. Sunflowers are the ideal plants for attracting different types of bees and other insects. 
At maturity, Sunflowers can grow around 3-10 feet tall and 1.5- 3 feet wide. Sunflowers thrive in well-drained soil and prefer adequate sunlight exposure.
Sunflowers are found in USDA growing zones 2-11.
Cosmos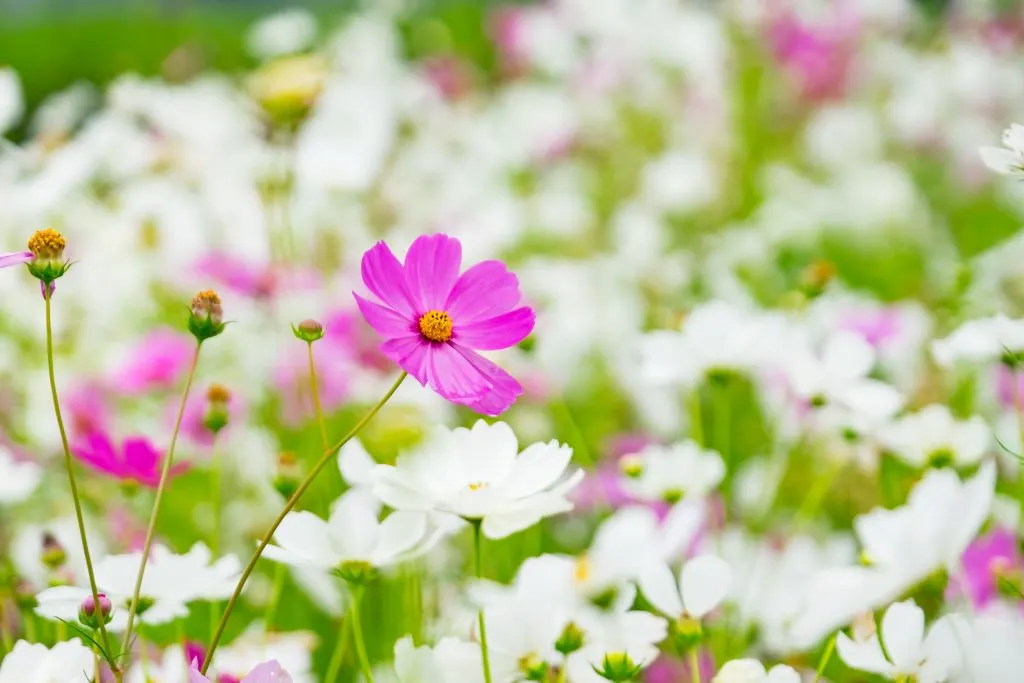 Cosmos are easy to grow, free-flowering plants native to North America, South America, and Central America.
They are among the best bedding plants for attracting bees. Their beautiful, simple flowers give bees and other insects easy access to their nectar. 
Although Cosmos germinates slowly, it blooms quickly and will continue to produce flowers throughout fall.
Cosmos flowers sit on long slender stems, forming a cloud of color attractive enough for bees, butterflies, and even birds. 
Cosmos blossoms come in a wide range of colors including, chocolate, golden yellow, red, white, yellow, pink, orange, and magenta.
At maturity, Cosmos can grow around 1-6 feet tall and 1-3 feet wide. They prefer well-drained soil and thrive with adequate sunlight exposure. 
Cosmos are hardy in USDA growing zones 2-11.
Hollyhocks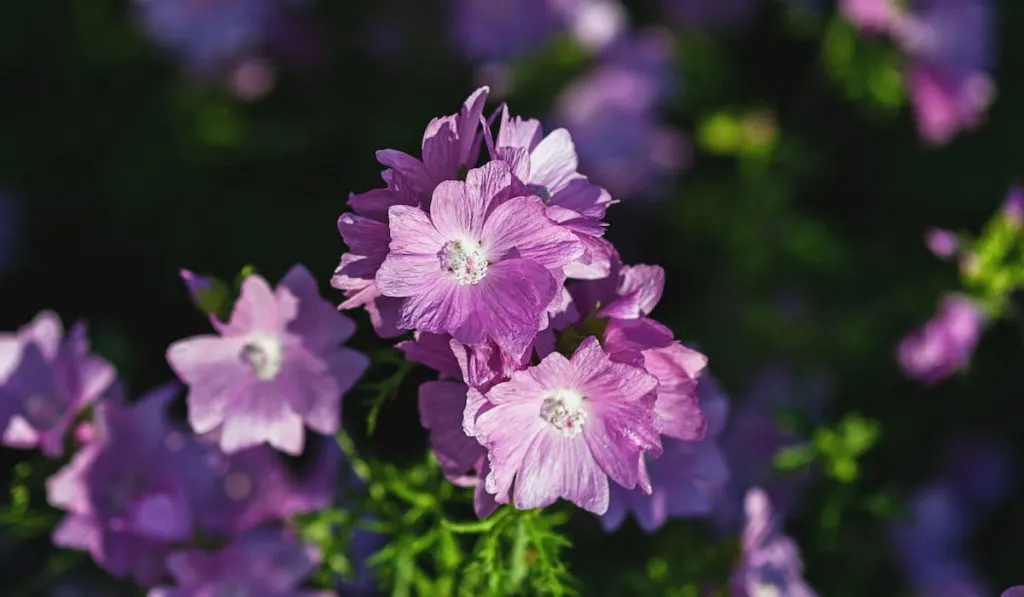 Hollyhocks are beautiful tall perennials that are easy to grow and ideal for any bee-friendly garden. Hollyhocks make excellent screens, and you can use them for hiding unsightly places. They also make fine background companions for shorter garden plants. 
Hollyhocks have long blooming periods starting in mid-summer until early fall.
The blooms shoot out near the stem's base then work their way up, covering 1-2 feet of each stalk throughout the season. Hollyhocks produce yellow, blue, pink, purple, white, and red blooms. 
Although they have a reputation for being short-lived, you can make them live longer by cutting off the stalk at the base when flowers fade. At maturity, Hollyhocks can grow as tall as 6 feet.
Although Hollyhocks will do well in any soil, they prefer moist, well-drained soil. Plus, they are hardy in USDA growing zones 3-8.
Wallflowers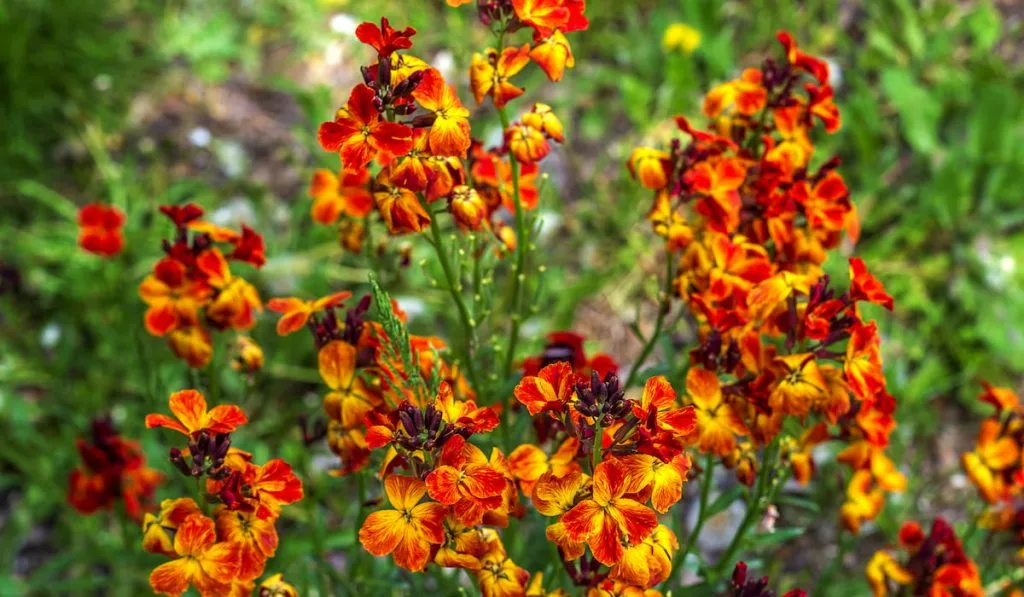 Wallflowers are small, attractive, compact, and easy to grow plants with high nectar content.
They are native to Southern Europe and are excellent in containers, rocks, or border gardens. While most wallflowers species grow as shrubs, some species grow as ground cover. 
Wallflowers have a habit of blooming nearly all year round. The beautiful four-petalled flowers come in red, yellow, blue, orange, pink, and purple. At maturity, wallflowers can grow around 1-3 feet tall. 
Wallflowers prefer sandy, well-drained soil with adequate sunlight exposure. They are hardy in USDA growing zones 6-9.
Ageratum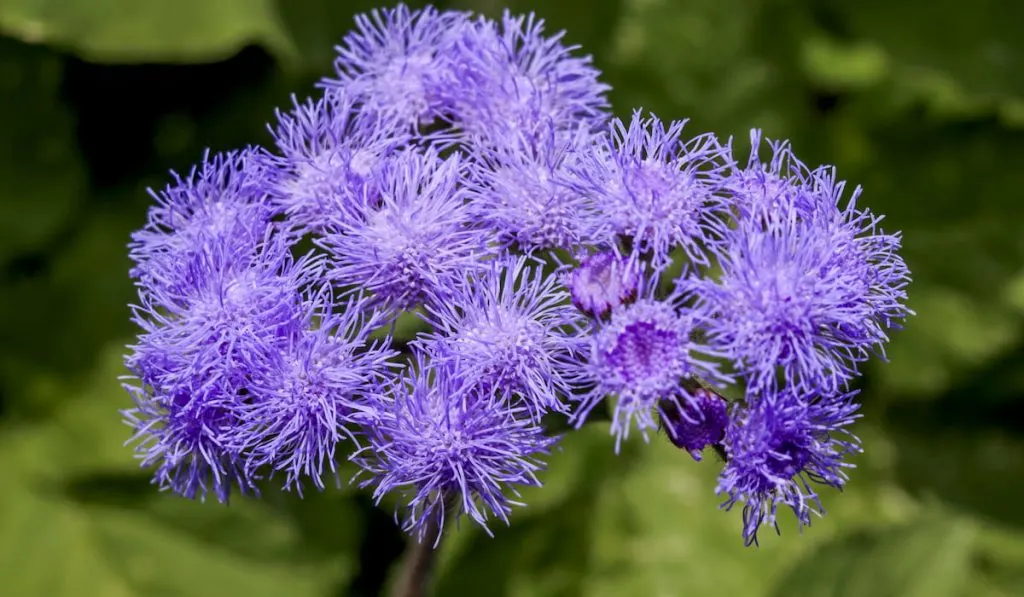 Also known as the Floss Flower, Ageratum is a low-growing annual plant that is native to Mexico. They are excellent in flower beds, pots, or the front of sunny borders.
Ageratum has long bloom periods starting from late spring until the start of winter. It produces bright purplish-blue and pink blooms that are attractive to bees.
At maturity, Ageratums can grow around 6-30 inches tall and 6- 18 inches wide. They grow well in moist, well-drained soil with adequate sunlight exposure.
Ageratum is hardy in USDA growing zones 2-11.
Resources: